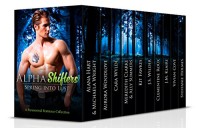 I received this set for an honest review.
A great boxed set, whether it's a return to favourite authors or an introduction to others that you might want to follow up on.
There's a shifter here for everyone. Sexy, funny and plenty of drama and action.
Some stories I liked better than others and there's a few authors I may stalk and see what else they have written.
Each author brought their own unique style into this set and I highly recommend it.